Mens Golf Club Notes | Concrawood Golf Club | Ireland
18th June 2019
GREG WINS IN A BLANKET FINISH
We had our tightest leaderboard of all time in the Carna Transport competition at the weekend. When the cards were checked on Sunday night, eleven golfers were within two points of the winner. And three of them shared the top score of 38 points. The winner was Greg Duffy. Having hit the turn on 17 points, Greg went through the  gears and recorded a superb back nine score of 21. This edged out both Paudie Kindlon and Francis Murphy who have the consolation of winning Categories 1 and 2 respectively. Category 3 was won by Sean McCoy, another member of that first eleven, on a score of 36 points.
Our club made its long awaited return to the Sam Rutherford Cup on Saturday. Jack McDonnell's side took on Mayobridge GC at Concra, in the unusual format where holes rather than matches count. And it was a very satisfactory return, as Jack's side takes  a 24 hole advantage into Sunday's second leg.
In Seniors News, the Gabriel Moore Memorial Trophy was held on Tuesday last. Now some of us need a miracle to get a score on Concra Wood and it's no coincidence that our winner Heber McMahon with a great score of 42 pts spent last week in Lourdes !! Well done Heber. The Category prizes went to Eamon Toal, PJ Lambe and Tom Ryan. First placed in the team event were Martin Allen, Pat Conlon and Brendan Laverty. 2nd were Declan McAteer, Raymond McCooey and Joe Sheridan, and third team spot went to Pat McNeill, Andy Whelan and Barney McDonald. Maura Moore and Finnian presented the prizes. Maura thanked the seniors for the great turnout for Gabriel's first anniversary competition. And Finnian spoke fondly of Gabriel and of how much he enjoyed playing golf.
This weekend our competition is sponsored by Shoe City. This stableford event takes place over three days, Friday, Saturday and Sunday.
And finally for this week, the failure to return competition cards has long been a problem in our game. The GUI is now taking steps to encourage all competitors to submit their cards at the end of every round. This is of course essential in assisting the correct calculation of the Standard Scratch Score. A letter which has been circulated to all clubs is posted on our noticeboard, outlining actions which may be taken against those who are inconveniencing Handicap Committees in this way. All members are asked to read this letter, and please return all cards in future competitions.
11th June 2019
PAUL MURPHY'S IRELAND WIN THE "PRANDY" RYDER CUP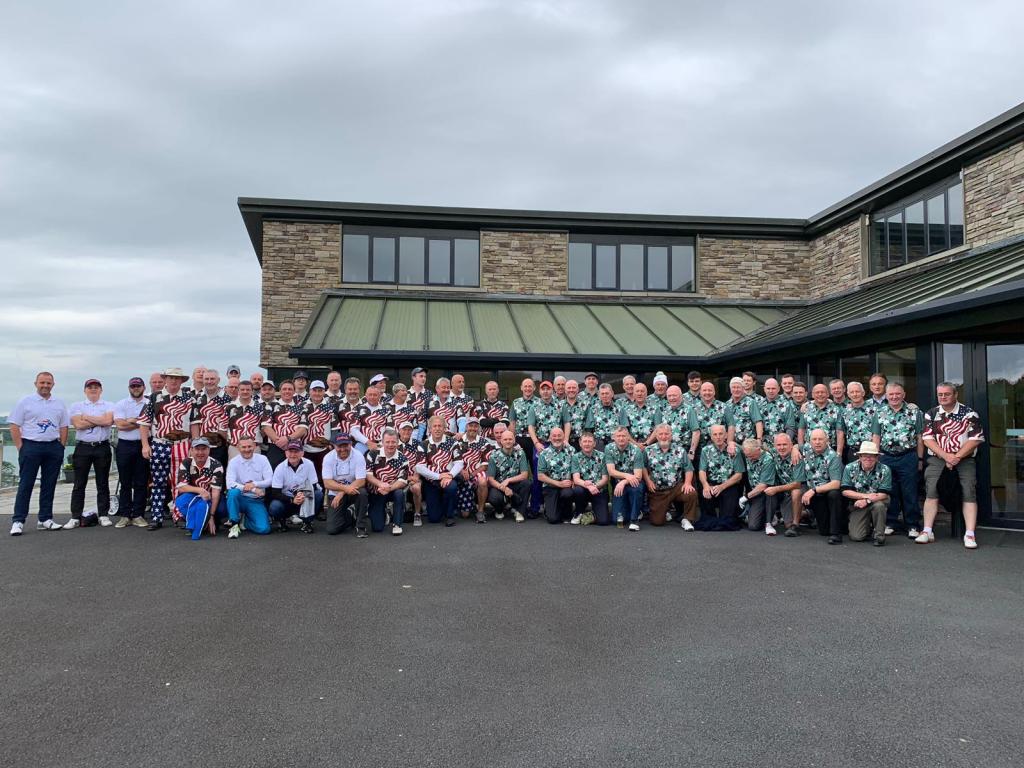 We were treated to the annual American invasion of Concra last week. They travelled from all corners of the States to take part in Blayney's  version of the Ryder Cup – the Prandy Duffy Cup. Doonbeg wouldn't hold a candle to us! On Saturday morning eighteen fourballs teed off in this year's event which sees James Duffy's Team USA take on Paul Murphy's Team Ireland. And it went right down to the wire, with Paul's men enjoying the narrowest of narrow victories. Not content with this, Paul then turned his attention to winning our domestic version of the Prandy Cup – a Golfer of the Year singles event. The word on the street was that his score of 38 points off the Gold Tees couldn't be beaten. How wrong we were! With over one hundred members taking part, not one but two competitors bettered his score. Aaron McNamara had announced his return to form in our recent Major Open taking first prize on 41 points. This weekend he managed a total of 40, just enough to win this prestigious event. After failing to score at the first hole, Aaron parred 11 of the next 13, and only needed to bogey the rest to get over the line. David Walsh also produced a score of 40 points, but his back nine of 18 was three short of Aaron's, so he had to be content with second prize. Padraic Conlon won the best gross prize. His score of 30 gross points contained two twos – a lucrative Double Decker! And in third place was the aforementioned Paul Murphy, whose handicap is now at an all-time low of 8.5.
On Sunday Martin Malone's Junior Cowdy Cup team took on Loughgall GC in the first leg of their match at Concra. Wins for the pairings of Dermot Brennan and our Captain Patsy Boyle, Shane Fitzsimons and Joe McGrath, and Brendan Carragher and Bart McNamara, and a half match for Andy Whelan and Paraic Craig give Martin's side a really good chance of progress in the second leg on June 23rd.
Our Seniors winners this week were Joe Quinn, Micky Quinn and Brendan Laverty with 51 pts. Runners up were Pat McNeill, Andy Whelan, Paddy Niland and Raymond Kernan on 50 pts.
And finally for this week, our next competition is a strokeplay event sponsored by Carna Transport. Members can play on Friday, Saturday or Sunday, and as some of our members aren't overly fond of strokeplay, there'll be a stableford prize as well.
4th June 2019
SEAN MALONE WINS PRESIDENT'S PRIZE
Our President Eileen Kerr's Prize took centre stage in Concra over the June Bank Holiday weekend. Over 120 competitors took part in the men's qualifier on Friday, Saturday and Sunday, with the top eighteen battling it out in a nine hole play-off on Sunday evening. The winner, on a total of 59 stableford points, was Sean Malone. Not for Sean a dramatic final green victory, but a comfortable winning  margin of 3 points.  Leading by two after qualifying with 41 points,  Sean added another 18 on Sunday evening. With the wind howling around Concra, that gave the chasing pack no chance. Garreth Woods offered the greatest resistance. A final nine score of 19 points gave him a total of 56, and the Runners Up spot. A regular on the leaderboard in the Majors, Garreth will surely be back for more. The Best Gross was won by Adrian Kelly. He may have recently joined the Seniors, but Adrian still knows how to get the little white ball around Concra. Third Prize went to Pauric Donaghy. Pauric was Sean's closest competitor in qualifying with 39 points, and no doubt playing in the final group is an experience that will stand him in good stead. And fourth prize was won by Brendan Carragher. His 54 points is further evidence of very steady improvement this season.
Our President Eileen and her guests joined our members to round off the weekend's celebrations in our clubhouse on Sunday night. Time and again speakers paid tribute to the immense contribution Eileen has made to our project at Concra Wood. In thanking everyone, Eileen made particular mention of the generous donations that were made to Monaghan Arch Club. And she thanked her sponsors Barry Kerr's  Wealthwise Financial Planning and Padraic McKenna of Arena Capital  for the wonderful array of prizes.
It was back to normal for the Seniors this week. 24 played and the winners were Nicky Hore, Paddy Niland and Brendan Laverty on 40 pts. 2nd placed were Hebor McMahon, Jim O'Neill, and Pat Bolger (38 pts.) 3rd spot was claimed by Gerry Treacy, Eugene McDonnell and Barney McDonald, also with 38pts.
And finally for this week, it's that time of year again – James Duffy's men are coming to town! And this year they'll be trying to make America great again after losing to Paul Murphy's Team Ireland in 2018. This is not a weekend for the faint hearted, and all our members can get involved as the match is played in conjunction with the Prandy Duffy Cup. This competition commemorates James' father Prandy who was a really keen golfer in the early days of our club. And to round off the weekend, the winner for 2019 will be presented with the cup in our clubhouse on Sunday night.
28th May 2019
PAUL CAMPBELL STRIKES AGAIN
Having dominated the Spring League leader board from start to finish, Paul Campbell was looking forward to a productive 2019. It's taken him a few weeks to bring this form into the 18 hole format, but it was worth the wait. On a windy weekend 40 points was enough to see him across the line in our Brennan's Furniture sponsored competition. Such was the difficulty of our course that our Standard Scratch came in at 35 points, meaning Paul loses a full two shots. Somehow I think he'll be fine! Category 1 was won by Michael McEntegart, who amassed his 39 points over the first 17 holes. Playing straight into the breeze on 18, Michael could only muster a 6, handing victory to the aforementioned Mr Campbell. Categories 2 and 3 were a little lower scoring. 36 points was all it took to secure prizes for Mark Conlon and Darren McQuillan.
Frank Mc Donnell's Jimmy Bruen Shield side are out of this year's competition. On Sunday evening their match against Clones GC went all the way to the final green in the final match, but unfortunately Jimmy Lacey and Barry O'Reilly were pipped at the post and Clones progressed by 3 matches to 2. There was better news for Dessie Duffy's Rossmore Cup team. His team was never in trouble as they completed a convincing victory over Ashfield GC at Concra. Next up for Dessie's men is Rockmount GC.
In Seniors news, 27 stalwarts headed to Slieve Russell for the annual getaway on Monday and Tuesday of last week. Let's get the category winners out of the way before we get to the big story.
Day 1, Category 1: R McCooey,  Cat. 2: P Niland,  Cat. 3: N Hore.
Day 2, Category 1: R McCooey,  Cat. 2: E Johnson,  Cat. 3: Junior McKeown.
The usual team events also took place.
Frank Nolan, on his first annual senior outing, gave a Senior Masterclass. After a steady 30 pts on day 1, he stormed through the field on the final day with a superb -2 round or 44 pts to take the overall prize. It was a joy to watch Frank, who at one stage was 5 under. What a round playing off a handicap of 6! Congratulations Frank. You have elevated senior golf to a whole new level.
Our Spring League, which was sponsored by Noel O'Reilly's Forklift and Machinery Sales, enjoyed a rather protracted matchplay series. However, that process is now complete – and it's still Spring! The winner is Gerry Mc Caul, who beat Eugene Mc Guigan in the final last week. It all went to down to (another) final hole finish, with Gerry coming through by the narrowest of margins.
And finally for this week, news of our President's Prize, Eileen Kerr makes a little bit of history in our club this weekend, as she's the first female to host the President's Prize. She is sticking with tradition in that our format is 27 hole stableford, with the top eighteen qualifiers – and equals – taking part in a nine hole play-off on Sunday afternoon. Eileen has, however, dispensed with the custom of members bringing gifts for the incumbent. Instead all will have an opportunity to make a donation to the very worthy cause of the Monaghan Arch Club. We wish Eileen and her family the very best for the weekend.
21st May 2019
McELROY WINS THE TAVEY 500
Conventional wisdom suggests that scoring improves in stableford events. However, there was no such luck for the 91 members who took part in our weekend competition which was sponsored by Eamon Tavey's Menswear. Tough rough places a real premium on hitting fairways and greens, and most of us appear to be struggling. The winner on a steady, if not spectacular, score of 39 points was Seamus McElroy.  Seamus did most of the spade work on a front nine of 23 points, and his back nine of 16 was just enough for a one stroke victory. Padraic Conlon and Pauric Donaghy both returned cards with 38 points, and both were left ruing mistakes at the last hole. A bogey for Padraic and a double for Pauric means they'll have to be content with their category prizes. Our other winner in Category 2 was Michael Byrne – a steal with 36 points.
On Sunday Noel O'Reilly's Ulster Cup side had it all to do as they went into their second leg against Rosapenna GC at Concra. Trailing 6-1 after the first leg Noel's men never looked like overcoming the odds, so a very strong Rosapenna side head into Round 2. There was better news from Dessie Duffy's Rossmore Cup team. They took home two matches from Ashfield GC, with wins for the pairings of Aidan Carragher and Dermot Beirne and Noel O'Reilly and Declan Smyth. Let's hope they can finish the job at home on Saturday. And commiserations to Michelle Costello and her All Ireland Mixed Foursomes side who missed out on qualification by the narrowest of margins on Sunday at Rossmore GC. Having matched fourth placed Slieve Russell's qualifying score, they were edged out on the fifth card. It doesn't come any closer than that!
In Senior News, the winners last week were Mickey Quinn, Jim O'Neill, Tom McHugh on 43 pts. 2nd spot was claimed by Eamonn Toal, Pat Conlon, Arthur McGeogh, also on 43 pts. And 3rd prize went to Joe Quinn and Adrian Sewell (40 pts).
And finally for this week, our competition is sponsored by Brennan Furniture this weekend. And then on the June Bank Holiday weekend it's Eileen Kerr's President's Prize. The time sheet is posted on our noticeboard with spaces available on Friday, Saturday and Sunday. This is a 27 hole event, with qualifiers taking part in a nine hole play-off on Sunday afternoon for the year's first Major prize.
14th May 2019
MURPHY'S LAW
If you happen to bump into Paul Murphy in the coming days, be sure to congratulate him on his great victory in our first strokeplay competition of the year which was sponsored by McElvaney Motors. His sizzling 69 has largely gone unnoticed by texters of all colours who've been commiserating with him on Liverpool's glorious failure in the Premier League. Life can be cruel at times! At least his golf never lets him down. It took a scrupulous countback to separate Paul's score from Ciaran McMahon's who was narrowly edged into second spot on the same score. The Best Gross prize went to Charlie McDonnel with a round of 77. And Third Prize went to my tip for 2019 Aidan Carragher, whose 70 sees his handicap reduced to 15.
In Seniors news, we had a record score of 56 points last week from Eamonn Toal, Nicky Hore, and Junior McKeown. In 2nd place with a mere 48 pts Gerry Treacy, Jim O'Neill, Pat McBride. All seniors please note: Slieve Russell annual outing Tuesday 21st – Please be there at 9 am.
This weekend our competition is sponsored by Eamon Tavey's Menswear in Carrickmacross. And all recent prize winners are asked to attend our presentation on Friday night in Concra at 8.30 pm.
And finally for this week, more commiserations – this time to Sean Malone's Pierce Purcell Shield side. On Sunday at Cloverhill GC they finished fifth in the qualifier, which sees only the top four go through. Let's hope there's more luck on the side of Noel O'Reilly's Ulster Cup team who attempt to overcome a 6-1 first leg deficit against Rosapenna GC in Concra on Sunday.
7th May 2019
ANNUAL CLASSIC AT CONCRA WOOD
Our annual Golf Classic sponsored by The View Restaurant took centre stage over the May Bank Holiday Weekend.  It was won by Sean Malone, Philip McCague, Dermot Brennan and an absolutely thrilled Noel Boyd enjoying his maiden victory. One thing is for sure, this is a team that knows how to celebrate! Their 86 point total gave them a 2 point winning margin over no fewer than four other teams. After a lengthy countback the minor placings were declared as follows: 2nd Paddy Cumiskey, Johnny Redmond, Paraic Craig and Andy Whelan, 3rd Brian Coleman, David Walsh, Francis Murphy and Adrian Sewell, 4th Bart McNamara, Dessie Woods, Greg Sibley and Gareth Woods, and 5th Emmet Brennan, Finbarr Carville, Martin Farnan and Shane Fitzsimons.
In Seniors news, 22 played on Thursday last and the winners with 41 pts were Pat McNeill, Paul Short, Brendan Laverty. 2nd Johnny McGoldrick, Pat Conlon, Pat McBride 40 pts.3rd Eamonn Toal, Eugene McDonnell, Arthur McGeough 39 pts.
The Inter-club season is now in full swing. On Sunday Frank McDonnell's Jimmy Bruen Shield side made it through their qualifier at Clones GC. His main men were the Billy Gene pairing of Messrs. Hanna and McGuigan who shot an excellent round of 81. And if anyone thinks there's nothing special about an 81, believe me in Clones on Sunday it was Top Class. They now meet Clones GC in the round of 32.
On Bank Holiday Monday Noel O'Reilly's Ulster Cup team made the long journey to Rosapenna GC for their opening round match . A win for Damien Cumiskey was as much as they could muster on the day, so they have it all to do in the second leg in a fortnight.
And finally for this week, it's back to our busy schedule for the month of May. Our weekend competition is a strokeplay event sponsored by McElvaney Motors. And good luck to Sean Malone's Pierce Purcell side who represent our club in this year's qualifier at Cloverhill GC on Sunday.
30th April 2019
Michael Byrne Wins Des McGlynn Cup
After a break for the Easter holidays, we have two competitions to report on this week. Members competed for the Des McGlynn Cup on a sunny Easter  weekend. While this was our first round without Winter rules, the benign conditions meant scoring was high. The winner on a score of 42 points was Michael Byrne. Having had no fewer than three blanks, Michael held his nerve, and a birdie at the last was enough to squeeze him over the line on a countback. The unlucky man to be edged out was Tiarnach O'Neill. He also shot 42 points off an identical handicap of 19, but lost out on the back nine. He'll have to make do with the category 2 prize on this occasion. Category 1 went to the very in-form Alan Bolger. Having his best season ever, Alan's 40 points total sees his handicap reduced to 5. And category 3 was won by James Connor, whose 38 points means he'll never play off 21 again!
Last weekend we turned our attention to our Corrigans' Kitchen event. Storm Hannah put paid to any chances for Saturday's competitors. And while conditions were hugely improved on Sunday, our very testing rough placed an absolute premium on straight hitting. It's no surprise then that our winner is one of our most accurate strikers. Gavin McEneaney scored on every hole as he plotted his way to 41 points, a score that sees his handicap back down to where it belongs – single figures. Category 1 was won by another striker, Ciaran McMahon. Ciaran fired in three birdies on his way to a score of 39 points. No one will be more surprised than Ruairi Digby to find that his 36 points prevailed in category 2.  Whereas category 3 winner  Martin Malone had already scored 36 points standing on the 16th tee. But as so often happens in Concra, those last three holes take their toll, and in the end he signed for a total of 38 points.
Twenty eight Seniors played on Tuesday last and the winners were Paddy Comiskey, Pat Horgan and Larry Coleman with 44 pts.   Pat McNeill, Adrian Sewell and Brendan Laverty were beaten on the countback, and third slot went to Michael Quinn, Nicky Hore and Tony Carville on 42 points.
This weekend our attention turns to our Club Classic which is sponsored by The View Restaurant. There are still a number of places available on Friday, Saturday and Sunday. Contact our office at (042)9749485 or any committee member.
16th April 2019
The old dog for the hard road!
Scoring in Concra was low this weekend as golfers struggled with the very windy conditions. This meant that Francis Murphy's 32 points was enough to win the Mementoes sponsored competition. The old dog for the hard road! Category 1 was won by Mac Sammon with 31 points. Declan Smyth posted the same total to add a Category 2 prize to his win earlier this year. Let's hope Declan can carry this form into the summer! Our captain Patsy Boyle also continued his early season form to claim Category 3 with 30 points. Our competition this weekend is the Des McGlynn Cup.
The seniors had seven teams of four for last Thursday's 1 2 3 waltz format competition. Three teams finished on 44 points, with Eamonn Toal, Adrian Sewell, Jim O'Neill and Barney McDonald coming out on top after the maths was done. Brian McGovern, Andy Whelan, Joe Gleason and Tom Ryan were second, with Pat McNeill, Pat Horgan, Brendan Laverty and Macarten Lambe third.
Having seen off some tough competitors in the O'Reilly Plant Hire Spring League, things don't get any easier for leading qualifier Paul Campbell as he faces Gene McGuigan in the semi-finals. David Lennon plays Gerry McCaul for the other place in the final. Good luck to all.
Joe McGrath's All Ireland Fourball team succumbed to a strong Mayobridge side on Sunday. Joe is very thankful to his team for their efforts this season.
9th April 2019
NEW PUTTER – NEW ALAN
Alan Bolger has long been a fine striker of the golf ball. However, he hasn't always enjoyed good fortune on the greens. Well it seems that's all about to change, as his new putter – a Christmas present – appears to be something of a magic wand. On Saturday he rolled in putts from all angles to return a score of 44 points off a handicap of 6 – that's two under par in old money! This was enough for a two point winning margin in our Declan Loughman Sports competition. The runner-up spot went to Pauric Donaghy. A product of our youth system, Pauric scored 42 points off a 22 handicap, his best ever round. And third prize was won by Sean McKernan who shot the best 40 points of the weekend.
Joe McGrath's All Ireland Fourball team got the inter-club season under way on Saturday. Wins for the pairings of Paul Campbell and Patrick Cumiskey, and Paddy King and Joe himself, and a half match for James Connor and Aidan Carragher gave Concra a two and a half  all home draw against Mayobridge GC. This leaves them with a mountain to climb in the second leg. We wish Joe and his team the very best on Sunday.
20 hardy Seniors played on Wednesday last with a cold northerly wind blowing through Concra Wood. The winners who returned 46 pts were Eamonn Toal, Nicky Hore and Paul shortt. 2nd place went to Pat McNeill, Pat Horgan and Tom Ryan with a modest 42 pts. Lately there has been some concern regarding the draws for teams. One suggestion is to bring in the independent observer from the national lottery. Watch this space! Welcome back to Johnny McGoldrick and wife Susan on their return from Zimbabwe after 2 months humanitarian work. With Concra Wood looking splendid a big thank you to all the senior gardeners. Up coming jobs are, flower beds at entrance, starters hut, paint hanging basket poles and spread bark on bank at practice area.
And finally for this week, sibling rivalry! Is it a good thing or is it a bad thing? I don't know the answer to this age old question, but I do know that it's alive and well in the Woods family. Last week we reported on Gareth's out of competition hole-in-one at the 6th hole. Well this week brother Dessie went one better. His hole-in-one at the 14th was recorded on an official card. Now what are the chances of that happening? We await their next move!
2nd. April 2019
CAMPBELL CONTINUES TO DOMINATE
We should have known when Paul Campbell topped the Spring League that his game was on the up.  And last weekend he took things to a new level. Having disposed of Greg Duffy in the matchplay , Paul turned his attention to our 18 hole competition which was sponsored by Gerry McMahon's Tradex Paints. And what a round he had, returning 43 points of a handicap of 18. This gave him a two shot winning margin over Patrick Comiskey and James King. These two had to be separated on a countback, with Patrick taking the spoils on the final three holes. And spare a thought for Gareth Woods. One of our keenest golfers, Gareth makes the long journey to Concra every week from Lucan. On this occasion, a delay led to him not entering the competition, and lo and behold he had a hole-in-one at the sixth. And as everyone knows, this deems his ace unofficial. However bar etiquette still applies!
The O'Reilly Plant Hire Spring League has reached the quarter-final stage. The main man Paul Campbell faces Pat Conlon, while Damien Cumiskey takes on David Lennon. Gene McGuigan's reward for overcoming Francie Boylan is an encounter with Ciaran McMahon. And having knocked out our long time leader – and sponsor  –  Noel O 'Reilly, Frank Nolan faces the tricky task of playing Gerry McCaul for a place in the semis. Good luck to all.
Our Senior winners last week were Pat McNeill, PJ Lambe, and Pat McBride 48 pts. 2nd Joe Quinn, Jim O'Neill, Pat Bolger, Hebor McMahon 46 pts. 3rd Micky Quinn, Paul Shortt, Macartan Lambe 45 pts.
This weekend our competition is sponsored by Declan Loughman Sports. This is a stableford event.
And finally for this week, we've heard all the excuses. "You're the youngest!", "I've no glasses with me!", and even "You stayed at school longer than me!" etc. etc. Anything but mark a card! As we all become familiar with the many changes in golf in 2019, our committee asks that all members swap cards on the first tee, and everyone marks a card. When mistakes arise, this practice makes things so much easier to resolve. And our busy Competitions Convenor deserves a quiet life!
26th March, 2019
DECLAN'S OFF TO A FLYER
Declan Smyth got his season off to the best possible start at the weekend, winning our opening 18 hole competition which was sponsored by Sealo Freight. Declan's game has been returning to its old self of late, after a couple of quiet seasons. So he's delighted to have recorded a fine score of 41 points at the first time of asking. The runner-up spot went to Aidan Carragher. His 40 points total included two twos, making this a very pleasant payday! Aidan is the man to watch in 2019. His handicap of 16 is going to fall like a stone to single figures. And third prize was won by Dessie Woods on a score of 38 points.
The good weather is back and the Seniors were out in force again last Wednesday. The course was in great condition and scoring was high. Eamonn Toal, Paddy Niland, Joe Gleeson took top spot with 53 pts. Pat McNeill, Pat Horgan, Barney McDonald and Pat Bolger were second on 49 pts.
This weekend our 18 hole competition is sponsored by Gerry McMahon Paints. It should be a very busy weekend as this event takes place alongside our Spring League match play.  We've already seen some interesting results, with Paul Campbell defeating Greg Duffy and Ciaran McMahon getting the better of Paraic Craig. Two big matches have yet to be played. Noel O'Reilly will have to bring his A-Game as he faces Frank Nolan. But the game of the round is surely Gene McGuigan versus Francie Boylan. This one is just too close to call!
19th March 2019
Paul tops the league
After a Saturday closure we managed to get the final week of the O'Reilly Forklift & Machinery Sales Spring League on Sunday.  After dominating the league table for five weeks, Noel O'Reilly was pipped at the post by Paul Campbell who takes the spoils as leading qualifier – with Noel in second spot.  The Top 16 all finished on scores of 76 points and over and happily there was no need for a countback.  The draw is available on our notice board and website and all matches must be played by Sunday 31st March.
Our category winners also made it into the Top 16.  In Category 1 Frank Nolan's score of 23 points saw him leapfrog a dozen competitors to end up in fifteenth place.  Category 2 was won by Gary Doyle whose 22 points took him comfortably home in 10th place.  And Paraic Craig matched Gary's 22 to win Category 3, and take fifth position in the league.
On Bank Holiday Monday over 100 golfers took part in our first Open Competition of the season.  The winner was James Forde on 41 points, runners up Aaron Kelly on 39 points edging Joe Brady into third place on a countback.
The seniors played on Friday last and the results are. Eamonn Toal, Pat Horgan, Pat McBride, Junior McKeown 48 pts. 2nd place with 47 pts Pat McNeill, Andy Whelan, PJ Lambe, McCarten Lambe.
On Tuesday 26th March we are hosting a Rules of Golf Roadshow in our clubhouse.  This will be conducted by GUI and ILGU officials.  The event starts at 7.30pm and is open to all members.
And finally for this week, the 18 holers start this weekend.  We kick off with a stableford event sponsored by Seamus Leonard and Sealo Freight.
12th March 2019
RAIN STOPS PLAY
We had hoped to report on the final week of our Spring League in this issue, but thanks to a weekend of dreadful weather, it never happened. Luckily we did plan for this, so we have a spare weekend up our sleeves. Members can have a second tilt at Week 6 this weekend, and hopefully that report will be with you next week.
Our Seniors played on a very windy Thursday, and the results are as follows; Winners with 50 pts Eamonn Toal, Pat Horgan and Arthur McGeogh. Runners up with 44 pts Eamonn Johnson, Nicky Hore, Barney McDonald.
We extend our deepest sympathies to our Captain Patsy Boyle and his wife Bernie on the death of her mother May McCabe. May she rest in peace.
And finally for this week, our first 18 hole competition of the new season takes place on the weekend of March 23rd and 24th. This event is kindly sponsored by the very generous people at Sealo Freight.
5th March 2019
CAPTAINS DRIVE IN
Our Captains went ahead with their Drive In on Saturday, in what can only be described as the foulest of weather conditions. No sooner had Patsy and Andrea, and our Junior Captain Keith, teed off than everyone headed for the clubhouse. Yet there are more than a couple of hardy golfers in our ranks. When the cards were checked on Sunday night, more than 50 members had taken part in Week 5 of the O'Reilly Plant Sales Spring League. This week's star performers were David Lennon in Category 1 with 23 points, Paul Leonard with a season's best 24 points in Category2, and Martin Malone who took the Category 3 prize with 22 points. As we enter the final week, Noel O'Reilly still leads the way on 81 points, with Francie Boylan and Gerry McCaul in hot pursuit on 80 and 79 respectively. As of now 72 points is the qualification mark for the top 16, but that's sure to rise by Sunday night.
In Senior news, 24 played on Wednesday last and the winners were Heber McMahon, Nicky Hore, and Raymond Kernan on 47 pts. Second place went to Des Morgen, John Keenan, and Pat Bolger (43 pts). 3rd on the count back Micky Quinn, Brendan Laverty, Tony Carville (42 pts). All slots are now filled for our Senior outing to Slieve Russell. Anyone who wishes, can put their name on the reserve list.
And finally for this week, the new rules introduced by the R & A in 2019 are certainly causing plenty of discussion, not to mention a headache or two. There is a very informative brief guide available to all members in our clubhouse, so it might be a good idea to stick one in your golf bag. You never know, it might just come in handy!
26th February 2019
NOEL ON POLE
Noel O'Reilly is in pole position after Week 4 of our Spring League which is sponsored by – well, himself! More than one or two of his rivals have begun to suspect that the first prize must be something special, because all of Noel's nearest challengers are members of the ten o'clock gang – a group of hardy veterans who draw for partners every Sunday morning at ten. Gerry McCaul and Eugene McGuigan are breathing down his neck – which can't be pleasant for Noel! And with two weeks to go the race for the rest is wide open. Remember the top 16 qualify for the knockout stages.
The same group dominated our weekend nine hole competition as well. Greg Duffy won Category 1 with 21 points, while Martin Malone took Category 3 with 22. They would have had a clean sweep only for Dermot Beirne who won Category 2 with 22 points. Believe it or not, he won it on a countback from – who else – Noel O'Reilly. You just can't keep a good man down!
In Seniors news, 26 seniors played on Thursday last and here are the results. Winners Pat McNeill, Joe Quinn, PJ Lambe with a great score of 52 pts. 2nd Paul McCarthy, Paddy Niland, Pat McBride, Pat Bolger 49 pts. 3rd Gerry Treacy, Eamonn Toal, Brendan Laverty 48 pts. A big welcome back to Raymond Kerman who has been sidelined with an injury since last June and also to new member Macartan Lambe.
And finally for this week, the draw for partners for our mixed scramble takes place on this Friday night (1st March). This event follows our joint Captains' Drive In on Saturday at noon. We wish Patsy and Andrea the very best of luck on the tee and in the year ahead.
19th February 2019
23 IS THE MAGIC NUMBER
2019 is going to be some year for big scores – that's if the Spring League is anything to go by. In Week 3 we had no fewer than five members who scored 23 points. The best of the bunch was Ronan McMahon who went round the front nine in level par to win Category 1. Victory was particularly sweet for Gerry McCaul in Category 2 as he edged out Noel O'Reilly on a countback. As sponsor of the league, Noel would no doubt have turned down the prize anyway! And in Category 3 Pat Conlon took top spot, pipping Pat McNeill at the post!
This weekend it's week 4 when the leaderboard will really take shape. Remember it's four scores to count after Week 6, so the more often you play, the better your chances.
Our Senior Captain Jim O'Neill held his drive in on Wednesday last, and all of the 30 seniors received a box of Bon Bons and a wee dram before teeing off. Jim led the way with his now famous knee bend and a drive straight down the middle. After golf finger food was served, Jim said some complimentary words regarding the social side of the seniors and the big turnout. The winners with 53 pts were Eamonn Toal, Pat Horgan, and birthday boy Tom Ryan. 2nd place went to Martin Allen, Andy Whelan, Tony Carville (50 pts), and 3rd spot was claimed by Joe Quinn and PJ Lambe on 48 pts.
And finally for this week, a reminder that our joint Captains' Drive In takes place on Saturday March 2nd at 12 noon. This will be followed by a nine hole mixed scramble. We look forward to a good turnout for the traditional kick-off of the golfing year.
12th February, 2019
PATSY DOES IT AGAIN
Since taking on the role of Captain, it's been win, win, win for Patsy Boyle. He was at it again at the weekend with a score of 22 points, which squeezed him past Sean McCoy to win category 3 on a countback. Category 2 was even harder to call, with David O'Neill's 19 points edging out none other than his namesake David O'Neill! For the record that's Doohamlet David beating Oram David. Category 3 was more clear cut with Eugene McGuigan out in front on 22 points.
The O'Reilly Plant Sales Spring League continues this weekend. The leaderboard is posted on the notice board. And members have a second event to look forward to as our Valentines Weekend Mixed Scramble takes place on Saturday at 12 noon. Anyone wishing to take part is asked to sign up or contact the office or Pro Shop by Thursday 14th.
Our Seniors were delighted to get out on Concra after the week of frost. 21 played in Wednesday's competition, which was in the waltz format –   that's one score counting on the first, two on the second and 3 on the third. Winners with 44 pts were Gerry Treacy, Andy Whelan, and Nicky Hore. 2nd Micky Quinn, Adrian Sewell, Pat Horgan (42 pts). 3rd Martin Allen, Joe Quinn, Joe Gleason on 42 pts.
And finally for this week, another date for your diaries. The Captain's and Lady Captain's Drive  In takes place on Saturday 2nd of March at 12 noon. The traditional start to the golf season will be followed by a nine hole mixed scramble. Let's hope the weather – and the golfing Gods – are kind to Patsy and Andrea!
28th January, 2019
SPRING LEAGUE KICKS OFF
The new singles format for our Spring League has proven to be popular with 84 members signing up, and no fewer than 70 taking part in Week 1. Top of the league at this early stage is Tony Carville with 22 points, a score which also took first prize in the weekend competition. The category winners were David Lennon and Damien Cumiskey on 21 points apiece, while our Captain Patsy Boyle is among the prizes again with 22 points. These nine hole events are repeater competitions, but members must submit their first score to the Spring League each week.
Now for the Seniors news. With the weather not playing ball last week 22 was a good turnout of the grand masters! Ballybay man Paul McCarty joined us last year; in the old days Paul played off 6 and now off 18 is comfortable. Paul led his team of PJ Lambe and Brian Laide to victory with 49 pts. 2nd Eamonn Toal, Paddy Niland, Jim O'Neill 47 pts. 3rd Brian McGovern, Sean Mulligan, Tom Ryan 44 pts. Members are reminded that in order to qualify for a subsidy on this year's trip away ,you will need to have played 8 times by May.
And finally for this week, a date for your diaries. The aforementioned Patsy Boyle's Captain's Drive In takes place on Saturday  March 2nd. There'll be further details on times and format in the coming weeks.
21st January 2019
HISTORIC WEEKEND FOR IRISH GOLF
Golf took centre stage on the Irish sports pages at the weekend. Not only did Shane Lowry give everyone's spirits a lift by winning the HSBC tournament in Abu Dhabi, but the GUI and ILGU both voted overwhelmingly to amalgamate. A two year transition period will now take place, with the new organisation, Golf Ireland, set to "go live" on January 1st 2021.
On the domestic front, we had a nine hole competition in Concra. The winner on a score of 23 points was Eoin Hamilton. He took the spoils on a countback from Billy Hanna, thanks to a superior finish. Third place went to our Captain Patsy Boyle, whose 22 points finished with a flourish – a birdie 2 at the ninth! This weekend our competition will be played in conjunction with the Spring League which is sponsored this year by O'Reilly Plant Sales. Good luck all entrants!
In Seniors news 23 members played this week, and here are the results: Winners Pat McNeill, Paul Short, Tom McHugh, Tony Carville 48 pts. 2nd Hebor McMahon, Andy Whelan, PJ Lambe, Pat Horgan 48 pts. 3rd Eamonn Toal, Eamonn Johnson, John Keenan 46 pts.
And finally for this week, heartiest congratulations to Jimmy Lacey and Barry O'Reilly who have led the Castleblayney hurlers to the All Ireland Junior Final. They brought huge support to Mullingar on Sunday, where they enjoyed a one point victory over Carrick of Leitrim. The final takes place in Croke Park on February 10th. They'll no doubt be delighted to have their work done in plenty of time for the start of the new golf season!
15th January 2019
JOHNNY CLAIMS TOP SPOT
The signs of Spring are there for all to see. The daffodils are blooming, the lawn mowers are humming and our golf course is chock -a-block. Not surprising then that we had some high scoring in our weekend nine hole competition. The winner on a super score of 23 points was Johnny Redmond. The mark of a great round is how it's finished, and Johnny's not going to forget this one in a hurry, as he finished it off with a birdie 2 on the ninth. And he needed it, as his score was just enough to edge out Paul O'Hagan and Paul Campbell, who take second and third prize on 22 points apiece.
This weekend we have another nine hole event. When signing in members can enter the Spring League. This year the league is a singles competition. Played over six weeks, each competitor's four best scores count. The top sixteen on the final league table will then take part in a knockout format to determine who this year's champion will be.  Start date for the Spring League is Friday 25th January.
In Seniors news, 25 played the waltz format and the results were. 1st Eamonn Toal, Nicky Hore, Tom Ryan 44 pts. 2nd Hebor McMahon, Pat Conlon, Tony Carville 44pts. 3rd Brian McGovern, Paddy Niland, Pat Horgan 43 pts.
Review of 2018 majors
20th Anniversary Jim O'Neill.
President Day Eamonn Toal.
Jimmy Coleman Cup Gerry Treacy.
Captains Day Declan McAteer.
Gabriel Moore Cup Joe Quinn.
Money list top 5 2018 (excluding the 5 majors)
1 Eamonn Toal. 2 Joe Quinn. 3 Nicky Hore. 4 Andy Whelan. 5 Pat Horgan
Best attendance. Eamonn Toal and Andy Whelan tied on 44.
Gardening
It's back to work this week for the gardeners, anyone who would like to help out please contact Andy on 0871171665.
A big thank you to the ladies and the senior men for their generous donations during 2018. More planting to do 2019
And finally for this week, a reminder to members that this year's annual subscription was due to be paid in December. Anyone whose sub is outstanding is asked to contact our office ASAP!
8th January 2019
FESTIVE GOLF
The wonderfully mild weather conditions over Christmas were enjoyed by record numbers of golfers at Concra. So, there are plenty of results to report this week. First up there's the Cooltrim Oil Winter League. This was won by Team 12 – Brian McGovern, Sean Malone, Heber McMahon and Phelim Quinn – on 174 points. Second prize went to Jim McKeown, Thomas Duffy, Patrick Niland and Paraic Craig of Team 15. The final week's category winners were Greg Duffy on 19 points, Sean Malone (again!) on21 points, Pat McNeill on 21 points and Paraic Craig (again!) on 19 points.
Our special event at Christmas time was the Mixed Scramble on December 29th. The winners were Ronan McMahon, Martin Farnan, Pat O'Connell and Chris Monahan on a score of -8. This was just enough to edge out Caitriona Bolger, Martin Malone, Dermot Brennan and that man again Paraic Craig on a countback. All funds raised on the day will be spent on our course, and we hope to hold another scramble in February.
Last weekend there was a large turnout for a nine hole singles event. The category winners were Gavin McEneaney, Emmet Brennan, Martin Allen and Seamus Leonard. And the only 2 of the entire week was shot by David Lennon!
So this weekend there'll be another Nine hole competition for members, and next week we'll have news of a new format for our Spring League.
And finally for this week a reminder to you all that it's time to study the new rules for2019. There's never been so many changes at once in living memory, so it's not going to be a case of learning them "on the hoof". You have been warned!