Head PGA Professional Conor McKenna offers a full range of golf services at his Pro-Shop- CMK Golf at Concra Wood. As a Partner in Europe's largest buying group – TGI GOLF PARTNERSHIP, we deal with all major brands to suit your needs.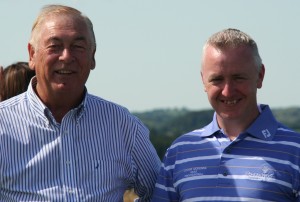 Head PGA Professional at Concra Wood – Conor McKenna
A word from our Head Professional
Fellow golfers. As the Head Professional at Concra Wood I would like to formally introduce myself to members and visitors alike. I would also like to take this opportunity to thank the members of Castleblayney Golf Club at Concra Wood for their warm welcome.
I began to play golf in 1990 at the age of 16 at Co. Armagh Golf Club and enjoyed 7 years competing in local and provincial tournaments. I represented the club at many levels before taking a position as assistant professional at Armagh G.C. under Alan Rankin. I turned professional in July 1997.
I spent 14 happy years at Co. Armagh Golf Club, working hard to develop a reputation as a coach and player. I have coached at a number of clubs and schools, including a summer programme in 2009 for Castleblayney Golf Club. As an Assistant Pro I helped to develop a competitive junior section at Co. Armagh Golf Club, for both boys and girls. I was also appointed as a Junior Golf Ireland coach, a coach for the Darren Clarke Schools League and a Development Coach for the ILGU.
My goal was always to become a Head Professional at a golf club and after almost 8 years PGA Qualified, I finally achieved my goal in June 2010, at one of Ireland's premier golf courses. Concra Wood is the most talked about course in Ireland at present and I feel privileged to be part of the team at Concra Wood. To complement the course and clubhouse, as Head Professional I provide the members and visitors with a well stocked and competitively priced golf shop. I offer a club repair service, custom fitting with a Flightscope Launch Monitor and tuition to all.
I will continue to develop the junior sections at Concra Wood, as there are plenty of young boys and girls at the club. We already have a great group of boys who are playing to low handicaps. I would like to help improve their playing techniques and hopefully witness some team success in the coming years with them; these children are the future of Concra Wood!
Since taking up the position as Head Professional in June 2010, I have worked hard growing the reputation and course ranking of Concra Wood Golf Club and was able to attract many regional PGA and GUI events to our Club but our big breakthrough come in 2012 when we got to host the PGA Europro Tour from 2012-2014, this gave us global exposure on Sky Sports TV. Having successfully staged those 3 events, I was approached by the PGA European Tour in January 2018 to host the Monaghan Irish Challenge, a Challenge Tour event. This was staged in October 2018 with 120 golfers from all around the world facing the challenge that is Concra Wood, we got a great winner with Oliver Wilson, a Ryder Cup player in Nick Faldo's Team in 2008, who finished on 270 (-12). Who knows what tournaments we could attract next? Maybe an Irish Open…
I look forward to meeting you all and getting to know you and maybe even helping you enjoy your golf a little more. One thing is for certain you will receive a warm welcome when you come to play Concra Wood.
Conor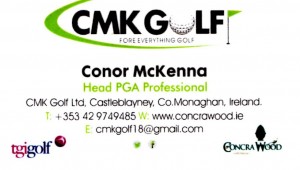 The Pro-Shop CMK Golf at Concra Wood Golf Club also offers other services;